Using PDF files is popular with many users because it includes more utilities than other popular file types. Although PDF files contain a large number of advantages, it also has some restrictions that make people feel exhausted. Many users also use Word to work, as the text will be in editable form. That's why many users want to edit the PDF file in the quickest way. So what we going to discover today is finding the pros and cons of PDF files and how to overcome them in the most straightforward way. Moreover, we will assist you in discovering the most straightforward way to convert pdf2word online.
Advantages and disadvantages of PDF files
The use of PDF files is chosen by many people to use. As the PDF format brings a lot of convenience to users. First and foremost, a PDF file is a type of text format that cannot be edited by the user. Because of the data, the content in the PDF file is fixed text. Regardless of whether it is scanned PDF or Word to PDF. The second advantage of PDF files is that users can open PDF files easily. You can use popular software supported on all modern devices to open and read PDF files as needed. What's more, PDF files can look the same on different platforms. For example, when you want to print your PDF file as a magazine, book, etc., your PDF file will not have any changes. Not only that, but PDF files also bring more utilities than you think. 
However, the conveniences that PDF files bring also bring some disadvantages to users. Because PDF files are non-editable text. So, once you've converted the files to PDF format, you won't be able to fix the errors in the PDF file. So, there is a high chance that you will have to redo the text from scratch if there is an error in the PDF file. Understanding users' worries, SnapPDF has brought an online tool: Convert PDF to Word. This tool will help you convert PDF files to Word format so that you can correct mistakes in your documents.
Online pdf2word conversion
To give users a good experience with the online pdf2word converter snappdf.app has made it possible for anyone to convert PDF to Word in just a few simple steps. So far, SnapPDF is trusted by many people because of its speed. Despite the high speed, it maintains high-quality "products," with no lost documents or errors. Here are instructions on how to convert PDF to Word using snappdf.app.
1. Open snappdf.app by clicking: https://snappdf.app/ and choose the option Convert PDF to Word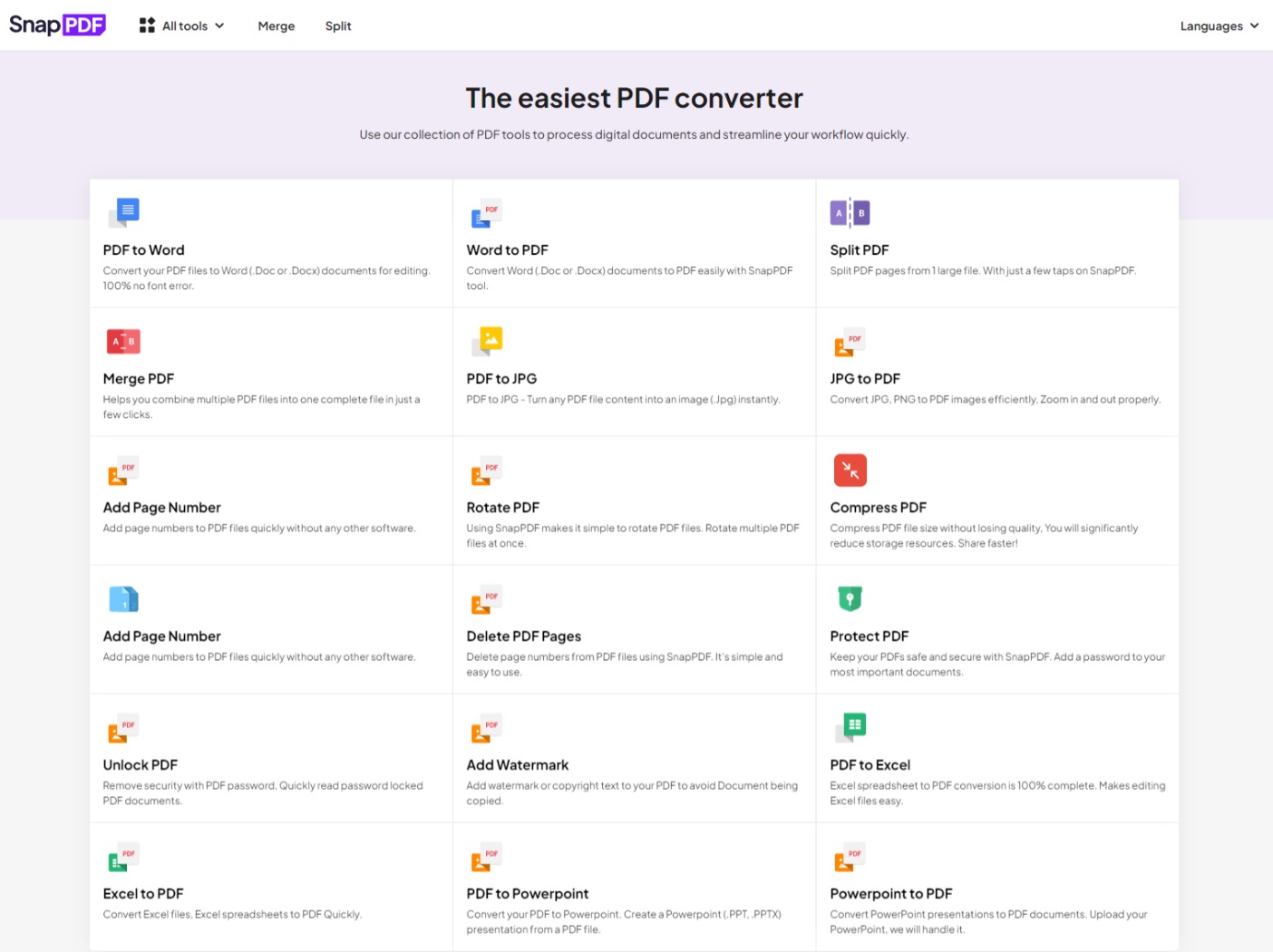 PDF converter SnapPDF
2. Click upload and choose your PDF file

Uploading PDF file
3. After you have uploaded your PDF files, click convert now

Converting PDF to Word
4. Wait for a few moments to convert your PDF files
Process of converting pdf2word
5. Click download to save your Word file and share it with your friends if you want

Download your Word file
That's all for the guides. Very easy, right? When your PDF file has been converted to a Word file, you can now easily edit your file without any restriction. Your Word file is on your device and you can access and open it anytime you want to fix the mistake that you have made. Or you can even save the Word file to a PDF file again.
Backward the pdf2word's  conversion 
After you have converted the PDF file to Word to edit the text, you can also save the text as a PDF file again. Converting Word to PDF is quite popular with all users. The most commonly used action is to use the Save or Save As option in Word and select the PDF file in your file list. But if you still don't know how to use the above operation and wonder how to get it done as quickly as possible, you can try SnapPDF's Word to PDF tool.
Conclusion
Using PDF files brings users a lot of benefits. Besides, there are some disadvantages when using this file format. In the above-mentioned sections, converting pdf2word or vice versa has become easier than ever with our guide. SnapPDF will give you solid confidence to use with peace of mind. Do not hesitate any longer without trying these special features right away!
Read more at SnapPDF Blog –