Having problems with PDF documents? Maybe you are stuck with uneditable text? But you don't know how to solve those problems? Is there a tool that can help you? Reasonable, convenient, fast with high accuracy? Without paying any cost, SnapPDF will help you to solve any problems with PDF documents. This is a website that helps users convert PDF to text quickly and easily. Best of all, you will not need to pay any costs or download any extra applications at all.
When do you need to convert PDF to text?
PDF is a popular format with everyone, especially for companies. The reason is that PDF format is a fixed text format. Meaning, once you have exported your document as a PDF, it will no longer be editable. Therefore, if you want to edit, you have to redo the text from scratch if there are mistakes. At such times, converting PDF to text is a great feature. Because after you have converted PDF to text, you can edit the text easily in the form of a Word document, then convert the text to a PDF file again.
Why is
SnapPDF
the top PDF to text converter? 
Not only a PDF file, but

SnapPDF

also assists users in converting other document files. Therefore,

SnapPDF

is not just an online PDF converter. Besides,

SnapPDF

has 10+ PDF-related features, which will give users flexibility in PDF-related work.

SnapPDF

has won the trust of millions of users because of its outstanding features, speed, and accuracy. Moreover, the tool is absolutely private and takes care carefully your security. 

What's more,

SnapPDF

is a very easy tool to use, even for the tech-blind. Some online PDF conversion apps or websites will include quite complicated and confusing steps. The reason is that converting

PDF to txt

format is not an easy task and can have many errors.

SnapPDF

is an online tool, so you can use it on any device and web browser such as Safari, Chrome, etc.

SnapPDF is a free tool. No need to pay any cost or create a premium account, there won't be any restrictions on the time you use the tool.
How can users convert PDF files with an online tool?
Users of SnapPDF know that using SnapPDF is easy with a few short steps. But those who haven't used SnapPDF before to convert PDF to text might have some confusion. As it may look a bit strange to newbies, we have given you the guides on how to use SnapPDF for short. 
In order to use PDF to text converter SnapPDF, look for the instructions below: 
1. Open SnapPDF converter to convert your PDF files: https://snappdf.app/pdf-to-word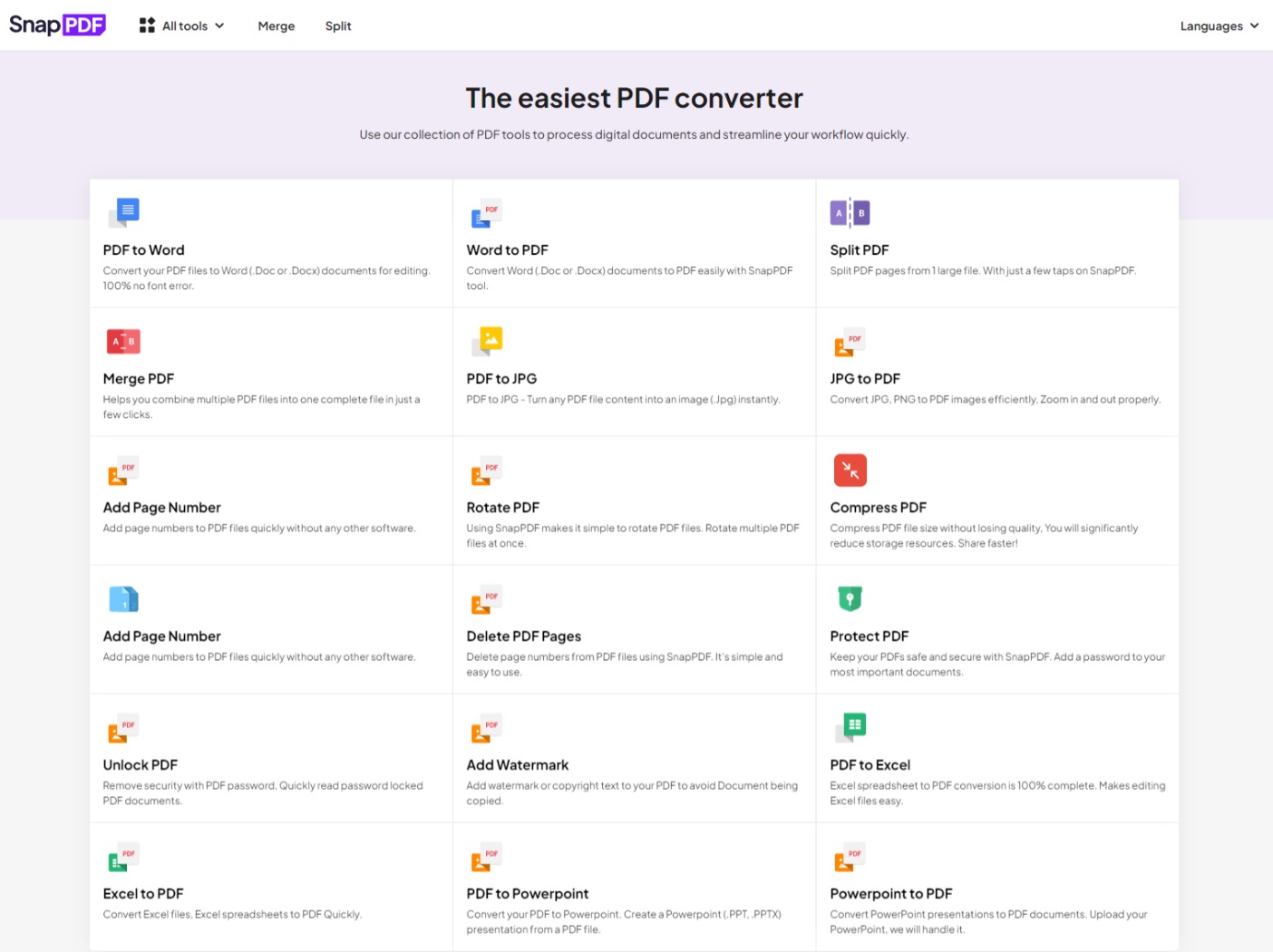 Online PDF converter SnapPDF
2. Click Upload and choose the PDF file that you want to extract text from.

Choose the PDF file to convert to text
3. Click Convert to extract text from PDF file 

Start the process by clicking "Convert now"
4. Wait for a few seconds for the conversion to extract text from PDF. 

Wait for the process
5. When the process is finished, you can download the text to your device and edit it if you want. 

Downloading files after converting
After you have edited your new text, you can convert the text to PDF again by Word to PDF converter. After your text has been converted to PDF, you can also protect your PDF files for security by the function: Protect PDF. This is also one of the SnapPDF functions, a really special one that hardly any tools have. 
Limitation of PDF online converter 
SnapPDF has many advantages to users, but along with the plus points, it still has some limitations. If the PDF file that you want to convert is small, so the speed of the conversion will be quicker. In contrast, if your file is a little bit large, you might have to wait some moments to extract text from PDF file. Some PDF to txt converters will give you restrictions on the number of conversions that you make in a day. For example, two times or three times per day, or ten minutes used for one day,….You can only use the tools for free without limitation when you subscribe to the premium account. And this pro account will also unlock all the features of the tools.
Conclusion 
If you are having difficulty with PDF files, do not hesitate to try the SnapPDF converter right away. This will be a tool to help you feel easier with everything related to PDF because SnapPDF itself is also one of the easiest tools to use. Visit SnapPDF's website to see what amazing functions it has besides PDF to text conversion. What you see will surprise you!