PDF and Docx are two of the most popular file formats for students and working people. Submitting assignments, sending documents, or even downloading documents from the internet to your device will often be in PDF or Docx. However, depending on the requirements of each document file or the needs of the user, they will convert their documents into PDF or Docx format. Although these are two popular formats, many people still do not understand the difference between these two file types or how to convert PDF to Docx with an online PDF to Docx converter.
Difference between PDF files and Docx files
Adobe Systems created the PDF platform, and Microsoft created Docx. While people can write as Docx files in Microsoft Word and save them as PDF files, users who wish to edit document files can convert PDF to Docx and edit in Microsoft Word. Furthermore, because all public platforms are providing PDF, it has the feature of limiting the ability to change documents in their exported form. Documents containing judgments, for example, will be given to everyone in PDF format rather than Docx format.
PDF to Docx conversion is a popular request among users ranging from students to experts. Although such conversion is required, and exporting Docx files to PDF format is straightforward (they may be converted in Word, for example), converting pdf2docx is more difficult if you don't know how. To achieve this, you'll need to utilize a website intended for PDF readers. Snappdf.app is one of the best PDF to Docx converters available online that is suited for all users.
How to use the online PDF to Docx converter?
Snappdf.app can be seen as one of the most simple ways to convert PDF to Docx. With its speed, quality, and many other convenient options, Snappdf.app is among the best online sites that assist people in converting files from PDF to Docx. Follow the instructions below for more details: 
1. Open online PDF to Docx converter: https://snappdf.app/pdf-to-word

Convert PDF to Docx
2. Click Upload to upload your files on SnapPDF converters

Uploading your PDF files

Converting PDF files
3. Wait a few seconds, and the PDF to Docx converters will convert your PDF files into Word format with the ability to extract and process documents accurately in seconds.

 PDF to Docx's process
4. Wait for a few moments. You can save the files to the same Word documents that you just converted and share them with your friends.

Download your Word document
Reason to choose SnapPDF
Because converting from PDF to Word or vice versa is a basic need for those who work or are still studying, so many file format conversion tools have appeared, especially online tools. However, the fact that SnapPDF has become one of the top choices has good reasons that users can hardly deny.
First of all, SnapPDF allows users to convert PDF files to Word at such a fast rate that you only have to wait a few moments for the process to complete. Moreover, although converting PDF to Docx is not as easy as converting Docx to PDF, with SnapPDF, everything will be easily done with a few simple steps. And what is special? You can edit your Word files on the web after converting them from PDF files before downloading them. SnapPDF gives an extra option to edit Word files right in the editor after the conversion from PDF to Word. You may change it again before downloading and distributing Word files. 
SnapPDF smart features
As mentioned earlier, PDF and Docx are very popular, especially PDF, because they limit the user's ability to edit. Therefore, SnapPDF gives users more features to be able to optimize the complexity of using PDF and Docx formats, saving users from having to spend too much time searching for online tools related to the two formats and making their work more flexible.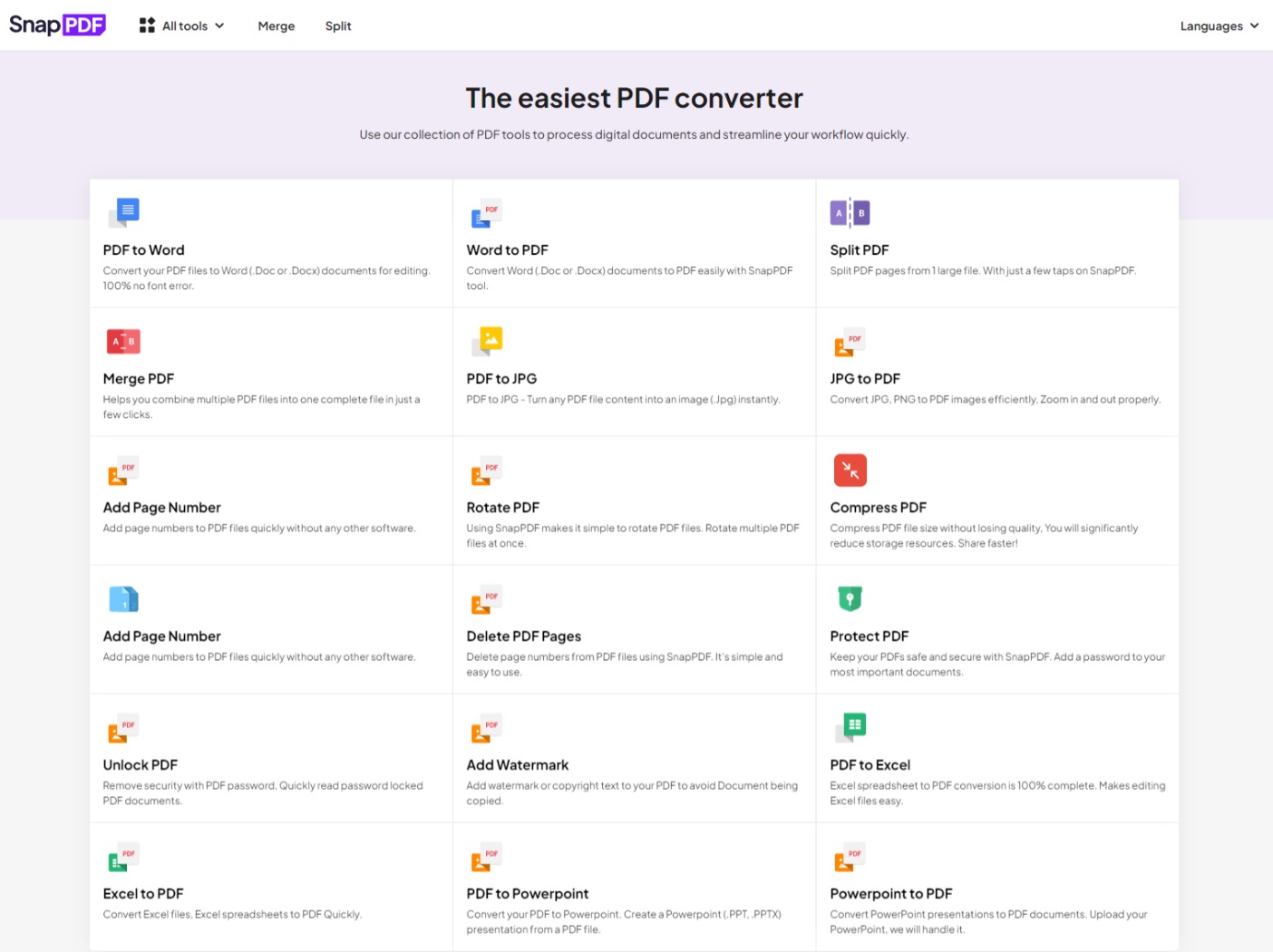 Features of SnapPDF
Those are some popular tools related to PDF; for more information and tools, please visit SnapPDF, which might satisfy your demand. 
Conclusion
To simplify the process of converting PDF to Docx, simply go to snappdf.app, an online PDF to Docx converter. This converter will allow you to convert PDF files to Word, and also let you test a number of additional PDF and Docx-related products. Finding more functions at snappdf.app!